«
Stained Glass ~ Tetons and Wildflowers
|
Illustration Friday: contraption
»
Illustration Friday: hibernate
Back in college, I learned about Illustration Friday. It was a little piece of information that I just pushed to the back of my brain because I was so busy with work, school, homework assignments, and whatnot. And then I completely forgot about it  . . . until now!
Let me explain what it is. Illustration Friday is a website that posts a new topic every Friday. It is a great way for artists/illustrators to think of the topic and create an illustration. Artists then have the whole week to submit entries, and the next Friday, a new topic is presented. I thought it would be a good way to dust off my illustrating skills~ I love painting and creating, but I don't have the challenge of being presented a topic (like in college) and having to work with it. Now I do!!
This weeks topic: hibernate. Here is a little something that I whipped up today. And ironically, I feel like I am hibernating myself. I am a bit under the weather today and am hiding underneath a mound of blankets on my couch. Anyway, here's my illustration. What do you think?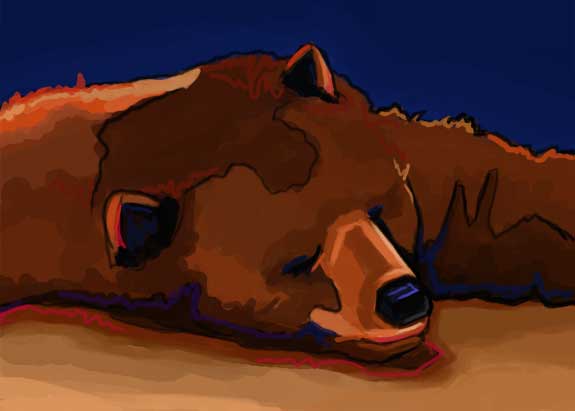 This entry was posted on Wednesday, October 5th, 2011 at 5:34 pm and is filed under Illustrations. You can follow any responses to this entry through the RSS 2.0 feed. You can leave a response, or trackback from your own site.
2 Responses to "Illustration Friday: hibernate"
|
|