Yesterday evening, after I got our little one to bed, I pulled out my watercolor paints and created something wonderful that I've never done before- a watercolor portrait of our little family! I have been scheming up the idea for a while now, and I must say, I'm so happy with how it turned out. Normally when painting with watercolors, I am caught up in the little details, and I love the simplicity of this painting. It was so fun to do, and I feel like I captured how everyone in our family looks–and our personalities–even our dog!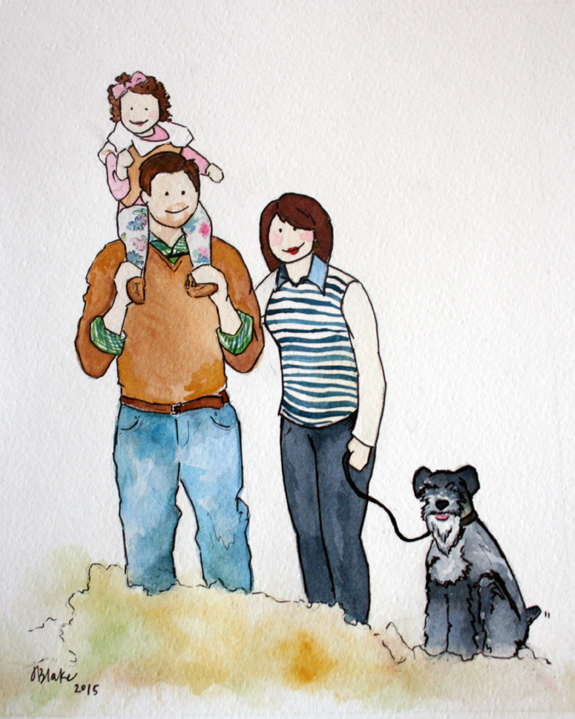 I'm so excited–and very flattered–about getting so many comments on the picture I posted on Instagram last night. I'm glad many of you loved this idea too.  And wouldn't it be neat if I could just paint you all a family portrait for free?! But I can't. So for those interested, here are my prices:
$50 for an 8×10 family portrait (up to a family of 4)
for each additional family member, an additional $10 will be added.
(example: a family of 6 would be $70)
I am happy to include pets as well. After all, our family wouldn't
be complete without our crazy dog!
I am also willing to do a big, extended family portraits
(in the size of your choosing–11×14, 12×18, or 16×20)
for only $200. 
~all of my earnings will go into our adoption fund.~
Here's what you need to do!
-Fill out the contact form on my website (or email me at jamie@jamieanneblake.com) and let me know what you have in mind. Attach a photo of your family for me to use as reference.
-I will send you a Paypal invoice, and once I get notice that you have paid, I will get to work on your family portrait right away. It's as easy as that!
One of these family portraits would add so much character and fun to your home. I already have mine framed and up in our office. And I love it!!